The Bluffs in Jupiter are made up of 5 individual communities sandwiched in between the ocean and the Intracoastal Waterway.  I will be covering four of them today, the Ridge, Lakes, River and Marina.  Ocean at the Bluffs will wait for another day.  Just north of the Juno Beach line running down Marcinski the Bluffs was built in the mid nineteen eighties and it appeals to may different types of people.  Still impeccably maintained, the Bluffs attracts an active crowd of people who love the beach, boaters, joggers, retirees, people who love to get out and enjoy our South Florida weather and lifestyle.  Its a place that just can't help but bring a smile to your face.
The Ridge at the Bluffs sits mainly on the Atlantic Ridge, with some of the homes sitting at the peak of the ridge and a few of the homes even have ocean views.  The Ridge is a single family home community built by Divosta with their famous solid poured concrete walls, a total of 618 homes in the community.  The homes are all approximately 2000 square foot three bedroom and two bath properties, with about 1/8 of an acre lots.
The River at the Bluffs is a combination of 363 single family homes and 312 town homes.  On the north a large preserve area and to the west the Intracoastal Waterway, with about 30 of the homes having private boat docks.  The town homes are the popular quads that are scattered through the area.  The community has a clubhouse, pool, tennis courts, playground, and a large open space area along the water.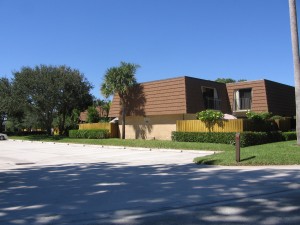 The Marina at the Bluffs is a low rise condominium community the stretches along the Intracoastal and includes a large interior marina.  There are 660 condominium units, most either over look the marina or the Intracoastal.  These are about 1400 sq ft two bedroom 2 bath units with large balconies.  The community includes three pools and clubhouse and lots of open space and preserve along the water.
Finally, Lakes at the Bluffs, a 392 unit town home community off quads. The community has pool, clubhouse and tennis courts.  Just a short walk to the beach or the pier.  The main thing these communities have in common is a very ocean and beachy feel.  The sea breeze blows all year round  being so close to the ocean.