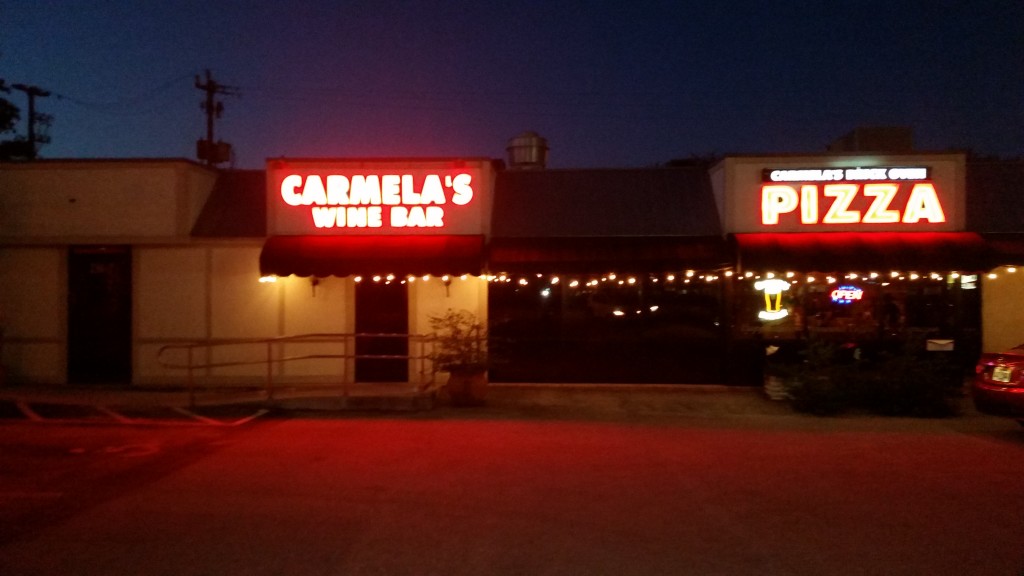 Probably the most over due post I have ever had.  Maybe because I am selfish and did not want to share.  First let me tell you a bit about myself, I grew up in the Northeast and I am a bit of a pizza snob.  I like thin crust pizza and I do not care for big rings of crust.  Which I call a big doughy mess.  So a couple years ago I took a friend who had no idea what pizza was supposed to taste like to NYC.  She was one of those people who said all pizza was sooooo good.  After a variety of slices, we had a convert.  She said I can't believe it can taste this good.  Well a year or so later another friend said you need to try Carmela's.  My initial reaction was to roll my eyes and say sure, but she convinced me it was not like other pizza here in Florida.  So with some reluctance few of us went and tried it out.  Much to my surprise it is fantastic, so good in fact that if you transplanted Carmela's to the Northeast it would be a thriving restaurant anywhere.
Now it has become a staple, at least once a month we go and get a Grandma.  Half cheese and half pepperoni and it never disappoints.  I wish I could tell you more about the menu, but haven't ventured to far from the pizza.  What I can tell you about, are the salads are fantastic and the right proportion.  The bartender Mike, or the waitress Nina have had everything on the menu and if they recommend it, try it.  All the staff is super friendly at Carmela's but I am most familiar with those two.  Carmela's is actually two restaurants in one, on the right side of the building is the brick over pizza side, on the left is the wine bar Italian restaurant side.  I believe you can order anything from either side.  To me the right side is the loud family side with tons of kids and the left is the adult side, not formal but very nice.
So whether you live in Gardens or Port St Lucie it is more than worth the drive to Stuart to try Carmela's.  It is located on Ocean Blvd about a mile east of Downtown Stuart.  So make a night of it, head to Carmela's for dinner then out to Terra Fermata or Crush for Music, or maybe Kilwins or Hoffmans for chocolate, or maybe shopping along Oceola.  Either way it makes for a great evening.