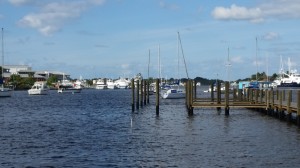 Rocky Point in Stuart,  is one of the special places in Stuart.  Geographically it is shaped like a thumb, surrounded on three sides by navigable water ways.  One side is the Manatee Pocket, one side is the St Lucie River, and the last is the Intracoastal Waterway.  From anywhere in Rocky Point is just short boat ride to the Ocean, in fact other than Sailfish Point it has the most convenient access to the Atlantic in all of Martin County.
One of the things that I really like about Rocky Point is the pride of ownership.  Even though only a hand full of communities are gated, the whole area feels like its inside an HOA.  At the end of Cove Road there is a small park where people go fishing and to watch the boats go by on the Intracoastal.  Leading to it is a great wide sidewalk that is far from the roads edge that you will see dog walkers, bikers, joggers taking advantage of the wonderful setting.  Even if you come just to drive through, take an hour enjoy the great little communities, when you done pull into the Manatee Pocket have lunch or dinner or drinks at Shrimpers, Manatee Island Bar and Grill, Twisted Tuna, or the most unique Grove Dock Bar & Cafe with all its artists shops. Think its better seen than described.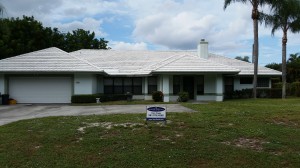 Now on to my listing, located at 4276 SE Rainbows End, Stuart FL 34997.  The home is located almost at the end of Horseshoe Point Rd in the Rainbow Cove Community.  Its a small self governed community with annual HOA dues of $100.00, approximately 30 homes make up the community.  When I was given this project by the bank, I had the the worst looking house in the neighborhood by far.  I felt bad for the neighbors.  Finally the bank approved the contractors bids and work began fixed up this diamond in the rough.  Landscaping was attended to first, and then the roof was repaired.  Since one valley had leaked the roofing contractors recommend all the valleys be repaired.  This work has been completed and the house is on the market.  The better features of the house are, wood floors through out, all three bedroom are large or oversized, cbs construction, a walk up attic from the garage, huge back yard, part of its fenced for pets.  Some items that need addressing, the kitchen is partway through a remodel, also the master bath is mainly original, and the landscaping needs lots of love.   mls report 4276 se rainbows
If you are interested in other homes or communities in Rocky Point, contact me at 561-876-4568 or tom@tomtraub.com, I will be happy to help you out.