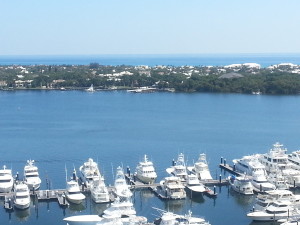 Old Port Cove is located between US 1 and the Lake Worth Lagoon just south of US 1. Many of the units offer spectacular views of Lake Worth, the marina, out to the ocean, and up the intracoastal to the West.  Old Port Cove is made up of six minor communities, Quay North and South, Cove Towers East and West, Admiralty, Harbor Village and Lake Point Tower.   These are spread out over the sixty acre parcel of land and tied together by a 2 mile walking path the takes advantage of the community's over 8000 feet of shoreline.  Old Port Cove also features two marinas which are even capable of handling mega yachts up to 200 feet.  The restaurant has reopened after a long absence, and Sandpipers's Cove did not disappoint.  The food was excellent and very reasonable, especially considering the view.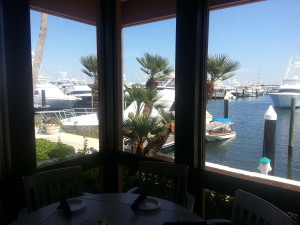 Each of of the communities offers something to  appeal to almost all tastes.  The Harbor Village feels more like town-homes, as surrounds its own canal off the Intracoastal and a number of the units have deeded dock slips.  Admiralty is two buildings more of a mid-rise towers no age restriction and allows small pets, it over looks the northern marina and Lake Worth out to Singer Island.  Cove Towers  East and West share a pool, are age and pet restricted and offer some spectacular views off Lake Worth over to the Ocean and west up the Intracoastal.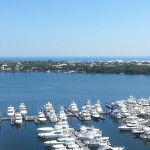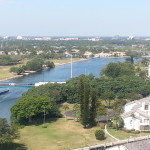 The Quay North and South are also  mid-rise buildings, but curved to give more units views of the marina and Lake Worth, no pets and no age restrictions.
The Marina Tower has clear views of both marinas, Lake Worth, Little Lake Worth and over Singer Island to the Ocean. It is not age restricted and pet friendly.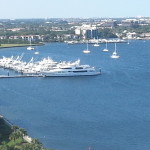 Finally, Lake Point Tower is the newest and most luxurious property in Old Port Cove.  Featuring completely unobstructed views to the north, east and south.  Sorry was not in that building on this trip to showcase some of the fabulous views.  It is age restricted, but pet friendly.
Old Port Cove is a magnificently maintained gated community, with seemingly limitless shoreline that caters to affluent buyers and boaters.  A true gem in North Palm Beach.