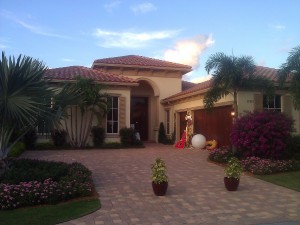 Old Palm Golf Club had another fantastic event the other night, Marti Gras in the Golf Estates.  Its was put on by Courchene Development Corporation and Mustapick Estate Homes featuring six completed homes to preview.   The homes were all located in the Golf Estates section of Old Palm.  Three of the homes were Courchene Developement models and three were Mustapick Estate Homes models.  Both builders put out a superior product but I have never been more impressed by any builder than I was with Mustapick.  I actually had to go back for a second look at all six models. There was there not one thing out of place, the fit and finishes were amazing, the choice of materials outstanding, every single grout line that was perfect.  The little extras to me made all the difference.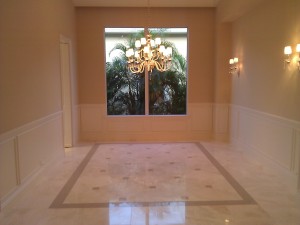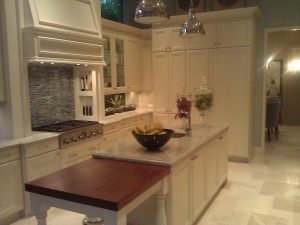 I really loved  the inlay stone work in the master baths and dining rooms.  These little extra touches highlighted the amazing craftsmanship, and attention to detail through out the homes.
These brokers open houses to me are the best education an agent can have, not only do you get a chance to preview homes, meet the builders, explore the property, but you also learn something new a the community each and every time. So I want to thank Courchene, Mustapick and Old Palm for allowing us in and putting on such a wonderful event.
Old Palm Golf Club is a very exclusive development in Palm Beach Gardens with a approximately 330 home sites surrounding a Raymond Floyd designed championship golf course.  With one truly unique feature, a 19th hole.  In this case a 100 yard par three island hole to settle tied matches or perhaps a bet or two.  Price points for homes range from the low one millions and up.  There are three neighborhoods in Old Palm Golf Club, the Golf Estates, Grand Estates, and Custom Estates.  The Golf Estate homes are 3000 to 5000 square foot homes from the low one millions to the mid 2 millions.  The Grand Estate homes are on 1/2 acre home sites, 4800 to 7000 sq ft, pricing from the mid 2M to over 3M.  The Custom Estates homes are on 1 acres sites, 7000 to 15,000 sq ft and priced from 4 to 12 million.
To search for homes in Old Palm Golf Club just click any link, but you will need to call to find out more pre-construction homes, 561-876-4568.