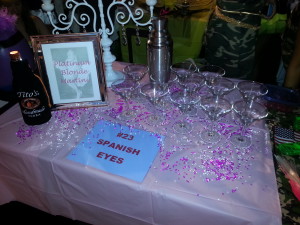 The weekend of October 4th and 5th was kicked of with a great local event, Bluewater Babes Fish for a Cure at Castaways Square Grouper.  A charity that supports local ovarian and breast cancer patients in need of financial support through the benefiting charities, Cancer Alliance of Help & Hope, H.O.W. Hearing the Ovarian Cancer Whisper, and the Kristin Hoke Breast Health Program.  This was my first year participating and the 5th overall for the event, it includes not only the fishing tournament, but also a costume contest, drink contest and boat decorating contest.  Our team from Platinum Properties participated in everything but the boat decorating contest.  My favorite was the costume contest, the imagination was outstanding, the winners all dressed as Rosy the riveter, I really liked the the boob bees, the ladies dressed as bees and the men as bee keepers, our team kind of combined the drink theme into the costume and took the Platinum Blonde drink and served it as Marilyn Monroe.
Unfortunately it was a little to late on Friday night when I walked out the docks to view the decorated boats to get good photos, but the creativity was very impressive there as well.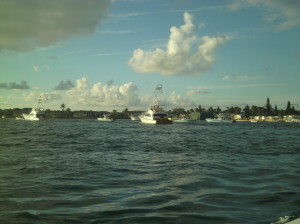 Saturday started early with all boats doing a shotgun start from Square Grouper in the inlet.  We started great with Marie catching a black fin tuna within the first hour, but as the weather kept improving our fortunes did not, we failed to land even a single dolphin.  We were not alone stuggling to land fish, the weather was perfect the seas were calm but the fish were not interested.  Great day on a boat, in fact any day on the water beats a day on land.
As you can see with the totals, not an impressive list of winning fish.  But that did not slow the fantastic time had by all.  The event finished up Saturday night back at the Square Grouper for the awards ceremony and the raffle.  The were tons of great packages to buy tickets for, even a custom Lilly Pulizter girls beach cruiser bike.  Not my style, but impressive non the less.  I know I look forward to next years event, and hope even more boats join with even more sponsors.