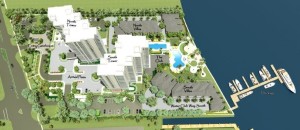 You may be wondering what going up between PGA Blvd and  US 1 Intracoastal bridge, well its the Water Club.  A new high rise development by Kolter, it will consist of two towers with 73 units per tower and 20 villa style units.  This is a luxury community with prices ranging between 700k and 2M.  The first 63 units are being released now, construction should take approximately two years.  I do not have floor plans on the villas yet, but we have the four floor plans for the 22 story towers.  Floors 2 thru 17 you will have a choice of four floor plans.  The Azure, a 3 bedroom 4 bath 2600 square foot unit with an additional 444 sq ft of terrace.  The Brandeis, a 2 bedroom 2 1/2 bath 1728 sq ft unit with additional 335 sq ft of terrace.  The Cobalt, 2 bedroom 2 1/2 bath 1959 sq ft unit with additional 319 sq ft of terrace.  Finally the Deepsky, a 2 bedroom 2 1/2 bath 1949 sq ft unit with an additional 361 terrace.  The view should be spectacular, with the upper floors having not only panoramic views of Lake Worth and Little Lake Worth, but they should also have amazing ocean views.  My guess would be 6th or 7th and up to have ocean views.  I will do an updated post once the villas and penthouse floor plans are released.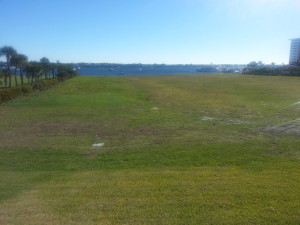 The current view of the Water Club property before the construction begins. Some of the features of Water Club will be private elevators, 15 boat slips just to the north of Old Port Cove Marina, gated community, a large resort style pool, and clubhouse, covered parking under the towers, and fitness center.
For additional Questions or to visit the site contact Tom 561-876-4568 or tom@tomtraub.com.