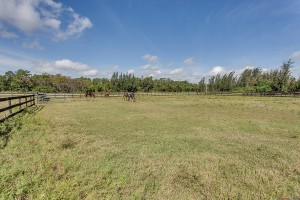 Come out and experience all this property has to offer.  This beautiful equestrian property is located in the eastern side of Jupiter Farms on 165th off of Jupiter Farms Road.  It is a 5 acre parcel that is fully fenced into 7 paddocks, one is intended to be a dressage rink.  A stable building was added in 2010, it includes an office, tack room, living quarters,  and 9 standard stables and one rehabilitation stable, and additional storage room.  The structure is approximately 130′ by 24′, owners currently have a commercial boarding license for the stables.
The barn features two zone air conditioning, one for the office and one for the living quarters.  It also has a separate septic system for the office half bath and full bath in living quarters.  The paddock fencing was completed in 2006, all paddocks have irrigation which draws from the canal.
There is also a 3 bedroom 2 bath home with a pool.  The house was built in 1977 and is in need of serious TLC.  It has roof leaks and open permit on uncompleted repairs.  This home is a perfect candidate for a tear down or a complete remodel, it just waiting for the newer owner to put their personal stamp on this home. We are not including the value of this home in the property, the asking price of $435,000.00 only reflects the the land and paddocks, and stable.
For additional information call Tom at 561-876-4568